Ohio Family 2 Family connects you to resources that can improve your life and the lives of your loved ones; empowers you and gives you tools to succeed; helps you get the best healthcare and community services; and helps you to not only survive but thrive. Learn more about our priorities below.
Supported Decision Making Network of Ohio
With a stated goal of "making Supported Decision Making more known, understood, and utilized in the state of Ohio, the Supported Decision Making Network was started in early autumn of 2021. Comprised of family members, self-advocates, and representatives from such organizations as ONI (Ohio Network for Innovation), OSDA (Ohio Self Determination Association), DRO (Disability Rights Ohio) and the UCCEDD, the core group of five members has since grown to a roster of over thirty-five including members from DODD (Department of Developmental Disabilities), ODE (Ohio Department of Education), APSI (Advocacy & Protective Services, SILC (Statewide Independent Living Council), OCECD (Ohio Coalition for the education of Children with Disabilities), the Arc of Ohio, and more.
While the concept of Supported Decision Making as an alternative to the taking of guardianship over an individual with disabilities is not new, many families know little to nothing about it and are frequently told that taking guardianship over a person with disabilities when they turn eighteen is the only reasonable and safe option. While taking guardianship may sometimes be the best route, studies show that individuals who are their own guardians and who utilize a personal network of advisors to support them in making adult life decisions large and small, have better outcomes. These improved outcomes can be found in the realms of health (mental and physical), independence, finances, relationships, etc.
The SDMNO plans to develop informational pieces, workshops, peer mentoring opportunities, and advocacy around the state of Ohio so that individuals and families can more easily pursue Supported Decision Making as the least restrictive option for their loved one's adult life.
Ohio Nursing Collaborative
Since 2018, Ohio Family to Family has led conversations with families and statewide partners to improve services for Ohioans who need nursing care.
In 2019, the Ohio Nursing Collaborative (ONC) was formed as a collective effort with families, DD Council, Ohio Department of Medicaid, Ohio Board of Nursing, and Ohio Department of Developmental Disabilities.
The goal of the ONC is "to educate and advocate for nursing solutions and policy changes that sustain and/or improve the health and safety of children and adults with intensive medical needs and developmental disabilities."
Some of our work together includes:
Added a mandatory face-to-face state nurse visit prior to a denial of nursing services
Increased education and training of SSAs and county boards about supporting families who rely on nursing care
Improved understanding of the Nursing Task Inventory
Developed a new family-friendly Nursing Guide, which was completed in August 2021 (see link to the guide below)
The ONC meets quarterly and continues to invite families in Ohio to give feedback on state rules and policies related to nursing and delegated nursing.
We will also work with policymakers to mitigate the DSP crisis in Ohio, which includes Nursing Shortages.
To contact the ONC, please email Amy Clawson, Chair, at amy.clawson@cchmc.org or call 513-803-2419
Nursing Care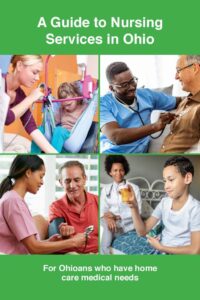 This booklet is intended for use by Ohioans who have home care medical needs. It provides explanations of complex terms and systems, information on what people need to know about different ways to get and pay for nursing services, and resources with more details, including how to apply. A Spanish version is also available.
Charting the LifeCourse
Charting the LifeCourse is designed to be used for your own life, for your family members, or in the work you do. The framework and tools will help you organize your ideas, vision, and goals, as well as problem-solve, navigate, and advocate for supports.
More on Charting the LifeCourse
Delegating Nursing Roles and Responsibilities
Families and People Who Have Complicated Medical Needs have options to consider in getting their home care needs met. Sometimes nursing tasks are needed but nurses are not always available or necessary to perform tasks. It is important that Ohioans understand the option of using Delegated Nursing when deciding how to get their care needs met. Delegated Nursing is a service option that allows unlicensed direct support professionals to complete tasks that would normally be completed by a nurse. The Ohio Nursing Collaborative created this guide that provide explanations of the roles and responsibilities of all parties involved when choosing to use Delegated Nursing.